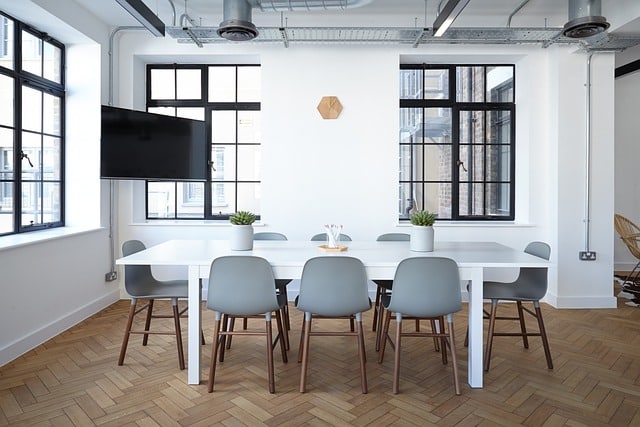 by OiG Professionals
If you are searching for affordable and sustainable solutions while designing an office space, then used furniture can be an innovative choice. Today, it offers the chance to transform office spaces into creative and motivating settings without sacrificing quality or appearance. You can create and invite workspaces that promote productivity and a collaborative environment. So are you ready to explore the art of office space furniture design in your workplace with used furniture items that infuse creativity and productivity in your employees?
Let's dive in!
1. Create A Used Office Furniture Checklist
Making an extensive checklist is essential to maximize your spending and avoid irrational purchases when purchasing used office furniture. Consider including the following items on your list:
You should prioritize the comfort and well-being of your employees. And for that, ergonomic chairs are a great choice. Look for lumbar support, adjustable features, and cushion quality.
First, consider how many employees work in your office space and what kind of work they do. Then look for sturdy, spacious workstations or desks holding computers, monitors, and other essential items.
Furniture For Reception Areas
Since first impressions count, invest in warm and fashionable furniture for your reception or waiting area.
Meeting and Conference Areas
Consider the attendees you frequently host when looking for tables and chairs for your meeting rooms or conference areas.
Breakroom furniture should be welcoming and comfortable so workers can unwind and recharge. Look for seating options like couches or tables and chairs.
Proper lighting is essential for productivity. Look for options for task lighting, overhead lighting, and lamps.
To keep a space organized and clutter-free, cabinets, shelves, and filing cabinets are essential.
Note: Check whether you need any electronics, including printers, monitors, or televisions. Include any required cables or accessories on your list. Add some plants or other greenery to your office space to give it life and vitality.
2. Select Furniture That Suits Your Brand Or Aesthetic
While designing an office space, you might need clarification on whether it's practical or aesthetically pleasing. That's why you must choose the one that fits your desired aesthetic or brand identity. Choosing the right one can improve the overall atmosphere of your office, whether you prefer a contemporary, minimalist appearance or a more traditional and cozy setting.
Before shopping, define your brand values and the message you want to deliver through your office space. Consider consistent elements like your brand, color schemes, materials, and overall design themes. For instance, choosing recycled or upcycled furniture can reinforce your brand's focus on innovation and sustainability.
Remember functionality and comfort, too. While upholding your desired aesthetic, ergonomic workstations and chairs can increase output and employee satisfaction. Always remember that the secret is to strike a balance between fashion and function. Make sure that the used furniture you select not only looks great but also meets the requirements of your workforce.
3. Think About Furniture Placement 
The functionality and flow of your office space can improve by strategically placing your furniture. After purchasing the used furniture, consider the following placement advice:
If your office has an open plan, arrange the desks and workstations to promote teamwork and communication.
To ensure privacy in areas that call for greater focus and concentration, such as individual workstations or meeting rooms, consider adding partitions or designating distinct regions.
Place workstations and communal spaces near windows to take advantage of natural light. This idea helps to increase output and improve the environment.
Keep the breakroom away from employees' workstations to give them a private area to unwind and minimize disruptions to the workplace.
Ensure that the reception area is visible to and easily accessible by guests. To establish a good first impression, choose welcoming furniture.
4. Dedicate Different Spaces For Different Purposes
A well-designed workspace accommodates the various needs of the employees. You will have a productive work environment by designating particular areas for different uses. Here are some ideas on other office spaces that we came up with to increase the efficiency of your workplace–
Cooperative Areas: To promote teamwork, brainstorming sessions, and casual discussions, set up common areas with inviting seating and collaborative furniture.
Meeting Rooms: Separate meeting spaces with appropriate furniture are needed to promote fruitful discussions with clients or among team members.
Break Rooms: Create unofficial break rooms with couches or bean bags where staff members can take quick breaks, mingle, or relax in their free time.
Wellness Spaces: Set aside a space for wellness activities like yoga or meditation to encourage employee well-being and reduce stress.
Quiet Zones: Establish quiet areas with individual workstations or small cubicles where staff members can concentrate on tasks that require concentration.
Planning Your Office Design With Used Office Furniture For Small Spaces
Choosing used furniture wisely while designing an office space for a small space flourishes functionality and productivity. Here are some useful pointers when designing your used office furniture–
Avoid Big, Heavy Furniture
Large, heavy furniture can easily become overwhelming and take up valuable floor space in small offices. Choose space-saving furniture that is sleek and streamlined. To maximize storage without taking over the space, look for desks, cabinets, and shelves with a simple design.
Go For Mobile Office Furniture
By selecting mobile office furniture, you can increase flexibility. You can easily reorganize your workspace with portable shelves, rolling file cabinets, and mobile desks. This adaptability is especially helpful when changing the layout to meet various work requirements or team projects.
Corner desks are an excellent option for cramped areas. They provide a dedicated workspace while occupying little floor space, maximizing otherwise underutilized corners. These desks can be plain or equipped with built-in storage to keep necessities close while minimizing clutter.
You can quickly store away seating options in a small office. Stacking or tucking away foldable chairs allows for the efficient use of space. Choose ergonomic designs to ensure comfort throughout long work sessions.
Create Spaces For Multi-functional Use
Make the most of your small space by creating areas with multiple uses. For instance, your meeting space might serve as a break room and a temporary office. Use furniture that is modular and gets reconfigured to suit the situation. Easily convert collaborative workstations into training areas with flip-top desks or collapsible tables.
OiG Provides Used Office Furniture In Dallas And Fort Worth
Office Interiors Group in Dallas and Fort Worth are your go-to solution for any used office furniture needs. We provide you with office desks, office chairs to all kinds of needed furniture such as executive office furniture, and more – all used and pre-owned within a budget. Visit our website or contact us today to learn more about our options for used furniture for any office space
Wrapping Up!
Furnishing an office with used furniture is a smart choice. This idea emphasizes the importance of affordable, sustainable, and environmentally friendly solutions. Moreover, this approach empowers companies to optimize their budgetary resources. Additionally, used furniture's adaptability enables businesses to experiment with various aesthetics. Also, focusing on office furniture design for small spaces creates a vibrant and varied environment that complements its brand identity and culture. You can also check our article on the most trending office interior and design ideas in 2023 for a better insight into how you can move along with furnishing your office space.