Office Design Services Fort Worth TX
Whether you are just starting a new business endeavor or are looking to refresh an existing space, designing a workplace can be a daunting task.
There are many things to factor into the equation, and while it's the work being done in your space that matters most, studies show that an aesthetically pleasing environment directly affects employee satisfaction and motivation. At OiG we have years of extensive experience designing offices across Fort Worth TX. Whatever your business, we can help enhance your workspace.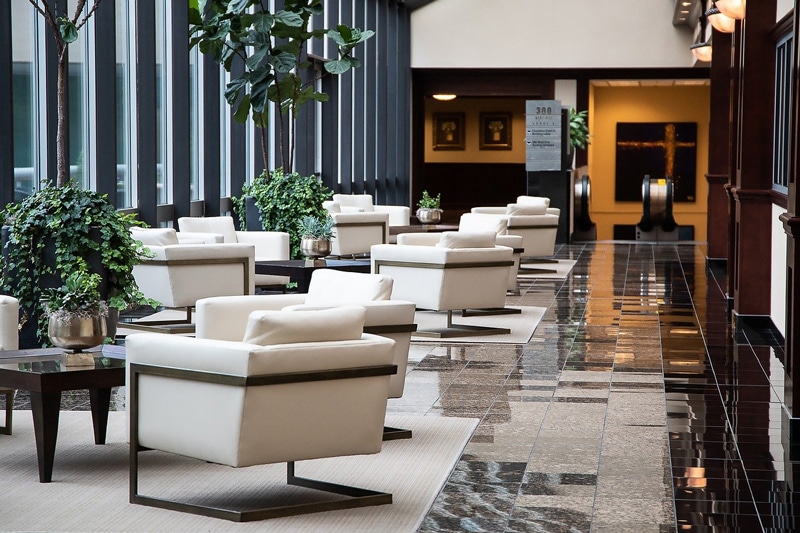 Nailing The Aesthetic With Office Design in Fort Worth TX
A vision exists for your company here in Fort Worth TX. Whether that was born in the early stages of developing your ideas or later as things got established, keeping that vision in mind throughout the process is essential.
What is it that you're trying to show or communicate to the world? What is the mission statement? Why are we all here? These questions can help us refine the image you need to portray through your office's design.
The design of your workspace says a lot about your culture. If you don't align your aesthetic, your image, to your culture, you'll have a lot of confusion and a lack of initial connection. If the goal of your design or redesign is to inspire your employees and your clients, nailing the spirit of the workplace is imperative.
There are a few practical ways we do this when designing offices. For one, having your company's mission and values prominently displayed throughout the office. Obtaining furniture that not only matches your image but also is ergonomically considerate to your employees. Overall, you're trying to ensure that your design represents you as a company, through and through.
Optimizing The Layout Of Your Fort Worth Office
The consideration for the functionality of the design comes largely in the layout.
Most offices organize their layout based on departments and teams. They group their employees based on their job function, but studies show that employees are more creative and engaged if they're next to people with the same clients or goals.
We also want to keep your culture in mind while organizing your layout is extremely important. This includes both your company's culture as a whole, but also the individual cultures of your teams. Considering how you can maximize that placement will go a long way to improve functionality.
It's also important that we think about what needs to be accessible to your employees throughout the day. Is it certain equipment? A manager's office? Things of that nature are also valuable to factor in when designing the layout. OiG provides you with a detailed plan to optimize the layout of your Fort Worth office with our expert office and workspace design team.
Defining The Budget For Your Office Design
When working with OiG, designing your office is an investment and it's' important for us to know your budget before diving into the project.
You might feel you have to invest a sizable amount to achieve your desired result of a space that accurately represents your brand and is as functional as possible. This is not the case! We have incredibly high-quality furniture and designs for nearly any budget.
Realizing The Vision – Complete Office Design Service in Fort Worth TX
Now that you understand how we structure our office designs, it's time to bring it all to life. At Office Interiors Group, we're committed to designing your office space into one that's functional, motivational, and something your team will love for years to come. Visit us online or in person today to learn more! You can also visit our office interior design page to look into the interior aspect of your designs and visit office furniture warehouse to look into possible office furniture to furnish your space with!