Front Desk Office Furniture Dallas, TX
Our extensive expertise in delivering office furniture solutions across many sectors and businesses, including front desk office furniture in Dallas, TX can give you peace of mind.
We offer a wide range of front office furniture solutions in Dallas for companies of all sizes. Our extensive resources allow us to help companies like yours in choosing the best front office furniture for their office spaces.
Our team of professionals will make your front desk furniture set the tone for a positive customer experience. A beautifully built, strategically located front desk, cabinets, sofas, and other front office furniture will help your office run more efficiently and lets your visitors know they're welcome and you're here to help.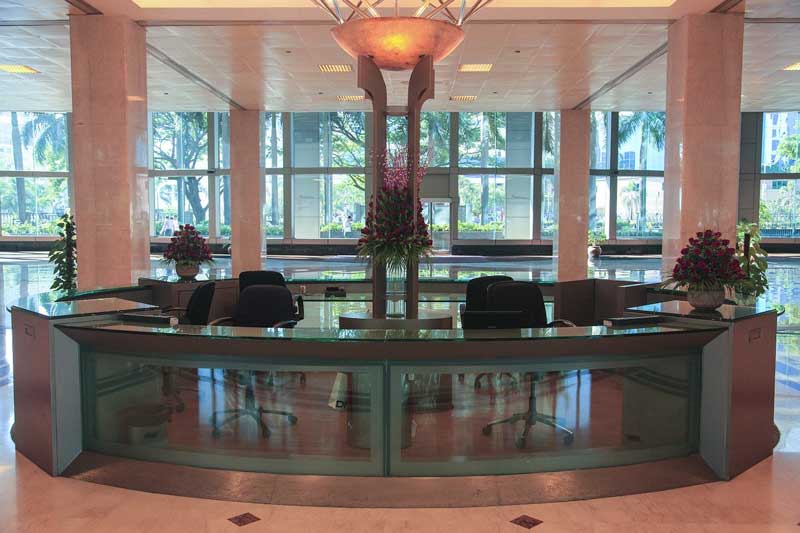 What Our Front Office Furniture Can Do for Businesses
Front office furniture, especially front office reception desks, are important in any office. Your reception desk is the first thing people see when they come into your office and check-in easily. They also make your employee's lives easier with better organization and space to be able to do their work.
The key is to find one that embraces the customers and makes them feel relaxed throughout the day. The following guidelines should be followed when selecting the right front desk office furniture in Dallas:
Cleaner Front Office Layout
To make the front office look more welcoming, you need to add the appropriate front office furniture. Sofas and benches not only offer customers a comfortable place to wait, but they will also enhance the room's appeal. A reception desk needs to match the overall layout of the space and to support you and your visitors.
Attractive Reception Desk Design & Appearance
You must be able to make the front desk standout for employees and visitors alike. To make the office look professional and clean, a reception desk with a raised front panel is preferable. It also does an excellent job of hiding documents and supplies that need to be available. Visitors such as clients and new hires want to know you're there for them, not busy and distracted with an increasing pile of documents and unopened mail.
On the other hand, do not go overboard with scale and material. An extravagant reception desk will look out of place in a small construction office or in a boutique hotel.
Find the Proper Sizes and Dimensions
Large reception counters are ideal for large, spacious spaces. Smaller reception counters are useful for offices with limited space.
Functional Front Office Furniture
The reception desk should be selected based on the duties and scope of your employees so that they will have enough space to be able to do their work on a computer, store their documents easily and organize their supplies, among other duties.
Every company needs inviting front desk furniture to make their visitors and employees more comfortable and productive. They should be useful and provide employees with a suitable work area. First impressions matter, and so does the reception area and front office workstation.
Not sure where to begin? Don't worry. Office Interiors Groups can help. We have years of experience helping companies of all sizes make the most of their space with the best front desk and reception office furniture in Dallas. Let us help you. Reach out! OiG also provides corporate office furniture, executive office furniture and cheap office furniture solutions for businesses and sectors across Dallas.