Modern Executive Office Furniture Dallas, TX
Modern Executive office furniture creates a professional, comfortable environment for Dallas offices. Choosing the right furniture for your executive office in Dallas is paramount for the satisfaction and productivity of your team. Fortunately, there is a wide variety of Dallas executive office furniture available at OiG to choose from.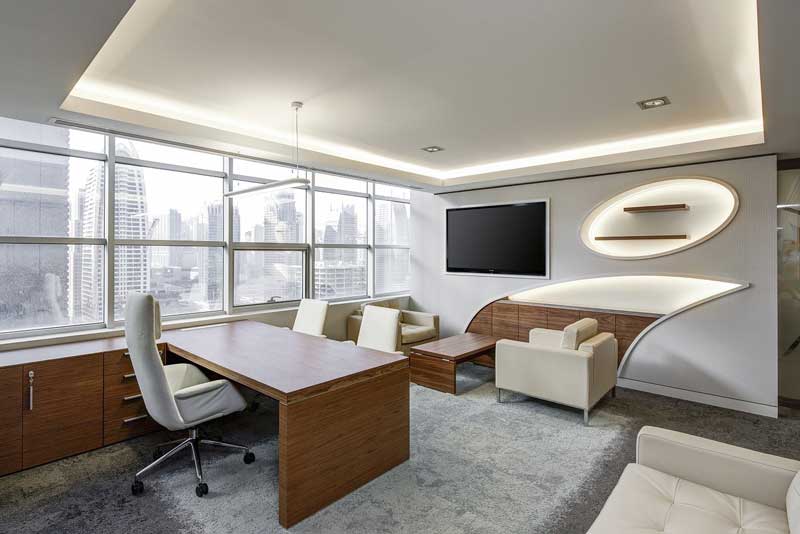 Types of Executive Office Furniture
There are various types of executive office furniture available at OiG. We offer stylish designs & ideas customized especially for your executive office set. Some of the most popular furniture are:
Executive desks – Used in large offices, these desks typically have a double pedestal design and include a file and box drawers for office supplies. While often a single work surface in the center of the office, they may also be L-shaped or U-shaped.
Chairs – Executives need comfortable chairs for themselves and any clients or partners that come in for meetings.
Cabinets – Store files, folders, papers, and other key documents.
Bookshelves – Many executive offices contain books and other materials that can be stored on a bookcase.
How to Choose Your Executive Office Desk in Dallas?
There are many types of executive office desks available, and it's crucial to find the right furniture for your organization. Here are a few things our furniture professionals help you identify:
Personal preference
Personality type
Nature of work
Type of visitors/guests you have
Types of Executive Office Desks at OiG
Below are the most in-demand executive office desks in Dallas, & at OiG, we provide!
Ornate – Ornate executive desks have a distinguished style and are commonly used for presidents, CEOs, royalty, etc. These desks are highly decorative and very solid, making them excellent for photos rather than long hours at work. Crafted from Ebony or mahogany, they include inlay work, carvings, and decorative accessories (handles or knobs).
Molded – Molded executive desks are mid-range pieces molded from veneer or plastic. While they're quite affordable, they can still include intricate designs and patterns. They are incredibly durable as well.
Angular – Angular desks are a contemporary option with irregular surfaces and profiles. They're ideal for creative professionals, journalists, and creative types. Just make sure to find one that is equally functional.
Corner Desks – Corner desks are commonly found in tech offices, as they offer a different look and function than traditional executive desks. The triangular work surface is ideal for small space utilization and comfort during computer use.
L-Shaped – An L-shaped desk is a version of a corner desk that offers an L-shape for the working surface. They should be placed at the intersection of two walls, and they offer plenty of space for personal and decorative items.
Qualities to Look for in Executive Office Furniture
The executive office furniture we carry has an emphasis on three factors:
Functionality – A design that is suitable for the type of work you do and that can accommodate guests.
Aesthetics. The finish, design, style, and shape of the furniture should tie together and fit the workspace.
Comfort – Ergonomics is essential for all executive office furniture. You want to be comfortable and in optimal working conditions in your office.
Affordability – While you should invest in quality pieces that will last a long time, you want to do so without breaking the bank.
The right executive office furniture sets you up for success and productivity. There are many different types of desks, chairs, cabinets, and cases out there. It's all about finding the furniture with best furnishing that fits your Dallas executive office furniture needs. The good news? Office Interiors Group can help. Reach out today! OiG also provides corporate office furniture solutions, cheap office furniture, home office furniture and front desk office furniture for all office furniture solutions in Dallas.