You want an office that hits all the right spots. It should be ergonomic, designed with sustainability in mind, and of course, aesthetically pleasing. Nobody wants a sad-looking office!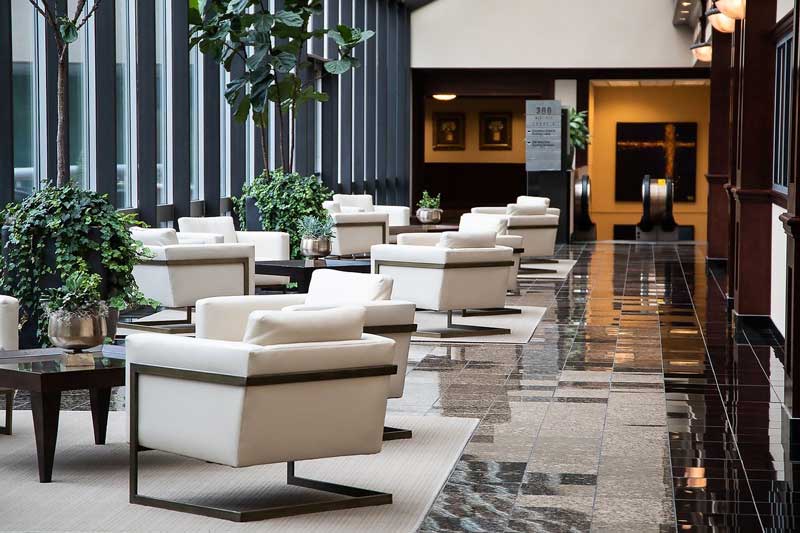 But where to begin? It's a big task, creating the perfect workspace to suit the needs of your company and your employees. Our team at OIG has a phenomenal design team focused on keeping your office looking fresh and keeping productivity high. Here are a few things we always consider when revamping an office setting.
Find the Right Color Palette
It's no secret that the colors of a person's surroundings have an impact on how we interact with that space. Something as small as the paint on the walls can influence how you think when you're in a certain environment.
You can go simple with easy-on-the-eye neutrals, or opt for a pop of color for a more energetic look. Greens and blues are noted to improve efficiency and focus, where warmer tones can encourage innovation. We help you think about the needs of your company and help implement what is going to be best for your business and your space
The Effects of Desks
In recent years much has been said about the potential health impacts of sitting all day at work. While the jury remains out on what the best desk option is for keeping morale and productivity high, it's a good idea to reflect on all your options: sitting desks or standing desks? Close-knit cubicles, or a wide-open plan with plenty of space to roam?
Deciding what kind of a desk and desk layout best suits your company's culture and needs is a crucial step towards designing your ideal office space. OIG has experience working with offices all across the Dallas metroplex. Let us fully optimize your investment by maximizing the productivity of your team.
Finishes and Materials
Another thing about furniture is that it's not just a visual experience. You should also consider the effect that your furniture has on the other senses. How does that fabric feel when you touch it? How might that carpeting impact the way sounds echo in the office?
Finding the right finishes and materials for your space is key. At OIG we work around your preferences to find something that is the best fit your office.
Choose the Right Designer
At OIG it's our goal to truly understand and care for your office's needs. It's is one of the most important things we do to ensure that you come out with the office of your dreams.
At OIG, you'll find incredible designers who will listen to all of your concerns in order to provide you with the best office possible for your company. With an eye for detail and a great understanding of interior design, you're sure to come up with a plan to create a beautiful, productive space for your day-to-day work.
You want to keep your office looking the best it can, and sometimes that means changing things up a bit! All the decisions involved may seem daunting, but you don't have to do it alone. Reach out to OIG today to start creating your perfect office space.