Office Furniture Liquidators Fort Worth, TX
Liquidation sales refer to a special event where a company that is going out of business attempts to get rid of anything remaining. Of course, businesses looking to liquidate should not rush the process, nor should they go into it blind. While it is tempting just to move furniture to see it gone, you want to make sure that you do not ultimately lose money, so you must contact expert office furniture liquidators in Fort Worth, TX.
The good news is that we can help. We have been serving as an office furniture liquidator in Fort Worth for many years and know how to appraise, list, and sell used furniture without selling you short. Here is what you should know about furniture liquidation: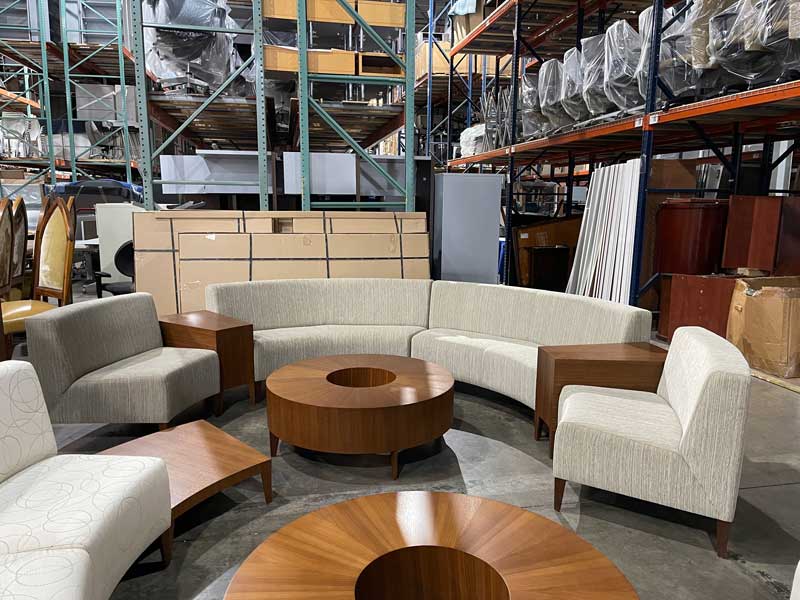 Reasons Behind Fort Worth Office Furniture Liquidation
Companies go out of business for a number of reasons. Most of the time, these companies close due to their inability to cover their bills or make enough sales to compete with leading businesses.
Part of the closing process involves selling off the products that are currently taking up space at a business' physical location. Selling these items, particularly big-ticket items like furniture, can help businesses recoup some of the money they lost in the process.
Unfortunately, many business owners may not have experience in selling so much furniture so quickly, or they may be so anxious to get rid of it, that they don't consider that they may be selling themselves short in the process.
That is where an expert Fort Worth liquidator like OiG comes into play.
We understand the current market, what is in demand, and how to best go about selling used office furniture. We manage liquidation through online auctions, website listings, and our own warehouses.
So, what happens to all that unwanted used furniture?
How Consumers Benefit From Office Furniture Liquidation
It is not just businesses closing their doors that benefit from enlisting the services of an experienced Fort Worth office furniture liquidation company like OiG. Current office managers and business owners can also gain quite a bit.
Think about it: all that furniture that we move via online auction, online sales, and other means has to go somewhere. It is certainly not a landfill where it will simply take up space. We understand the market and what various office managers are looking for to enliven their workspaces. As such, we boast an impressive selection of used furniture to our customers.
Making the Most of Fort Worth Office Furniture Liquidation with OiG
Whether you are shuttering your business and looking to get rid of old office furniture or seeking office furniture to occupy your current business, OiG is happy to help; contact us today. We believe that most used office furniture has a place somewhere. If it has finished fulfilling its role in one office, then it may be ready to take up another purpose in a new office.
Thanks to our years of experience in Fort Worth office furniture liquidation, we are ready to either help you make the most of your old furniture by helping you through the liquidation process or guide you toward the used furniture you need to create a bustling, collaborative workspace. Contact us to learn more. OiG also provides office furniture warehouse services in Fort Worth TX.